Flood Risk Assessment: Scope of Service
1st December 2021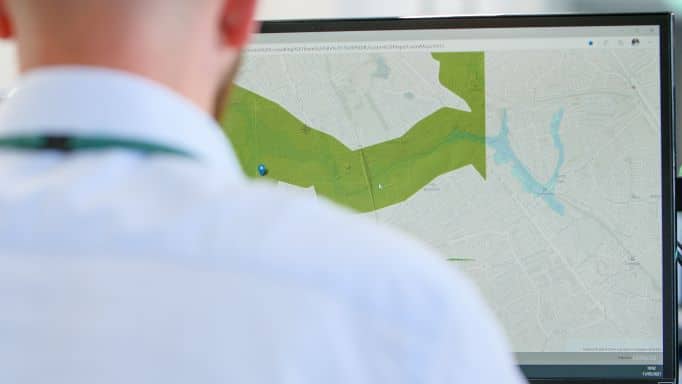 What is a
Flood Risk Assessment

?

A Flood Risk Assessment (FRA) will determine the flood risk to a site from multiple sources. It is usual for a FRA to assess the flood risk from rivers, sea, surface water, sewers or groundwater. The level of risk is in part determined by future site users and/or sensitive receptors.

If an unacceptable risk is identified the Flood Risk Assessment will determine whether any mitigation measures are required and what measures are feasible to reduce the risk to an acceptable level.
Why is a
Flood Risk Assessment

needed for this site?

The Environment Agency planning guidance contains criteria that sets out what is expected in a Flood Risk Assessment for different development scenarios depending on the size of the site, which flood zone the site is located in and its vulnerability.

As a minimum, the National Planning Policy Framework (NPPF) states that a Flood Risk Assessment must be submitted:
With all applications for development of sites in Flood Zones 2 (medium probability) and Flood Zones 3 (high probability).
With applications for development of sites measuring 1 hectare or more in area in Flood Zone 1.
With applications for development of sites measuring less than 1 hectare in Flood Zone 1 but where there is a known risk or history of flooding from other sources or in a critical drainage area or within a local flood risk zone.
For all major planning applications (10 dwellings or more).
The scenario(s) which your site falls under has already identified as part of our initial site review when we prepared your proposal.
You can also see the flood risk by simply visiting the 'Flood map for planning' website and put in the site post code or grid reference. However, whilst this map may show which flood zone the site is in, it does not show the risk of flooding from all sources.
Scope of Works
To ensure we provide you with a compliant assessment, your Flood Risk Assessment will be carried out in accordance with the Local Plan, best practice and planning guidance including the Environment Agency's planning guidance, DEFRA's sustainable drainage systems (SuDS) guidance and the National Planning Policy Framework (NPPF).
Our Flood Risk Assessments are prepared by experienced consultants who are committed to providing you with technically robust reports that are tailored to meet your needs.
The scope of your Flood Risk Assessment will include:
Review of Strategic Flood Risk Assessment in context of the development proposals including consultation with the Environment Agency and Lead Local Flood Authority, as necessary.
Review and consideration of relevant legislation and national, regional, and local planning policies associated with the site, its proposed end-use and location.
Review of any existing information and reports relating to the site and surrounding area, including any available plans, existing layouts, onsite planning records (using planning portal) and aerial photographs.
Review plans of existing drainage systems on the site including outfall locations to soakaway, ditch or drain, where this data has been provided.
Review of published geological and hydrogeological records to assess the geoenvironmental setting of the site and surrounding areas.
Assess the flood risk from multiple sources on and within the vicinity of the site based upon the vulnerability use of the site using readily available information and data obtained from third parties and the Environment Agency.
Provide advice on how the proposed development can be made safe throughout its lifespan, by providing advice on flood mitigation measures, such as Finished Floor Levels, flood compensation and flood resilience (as required).
Preparation of a technically robust flood risk report ready for submission to either the local planning authority to support your planning application, discharge condition or provide information to an interested stakeholder.
The report will determine whether site is at risk of flooding and give actionable recommendations depending on the accuracy and resolution of the data gathered during the assessment.
This could include a broad range of mitigation measures and/or more detailed flood risk assessment modelling if the site is found to be very vulnerable and at a high risk of flooding.
Information we need from you
We would need to have the following items covered before we can get started on the Flood Risk Assessment:
Clear red line boundary plan and full postal address (or nearby).
Proposed development layout, showing any external areas and ground floor uses. Ideally final and in PDF and DWG (CAD format).
Site topographical survey in PDF and CAD format.
Public sewer records.
Existing onsite drainage records (if available).
BRE365 infiltration testing (we can undertake if required as a separate service).
Additional information which would be very helpful, but not essential for a Flood Risk Assessment:
Site investigation reports.
Any existing/old environmental, flood risk or drainage reports.
Any historical information or local knowledge i.e. flooding, tanks, odd features, both onsite and neighbouring etc.
Before we can finalise the Flood Risk Assessment report and the SuDS strategy aspect, we will need to agree:
Final SuDS components and justification where any original recommendations could not be achieved (may require a separate discussion).
Ownership details and party responsible of maintenance of proposed drainage systems.
NB. Depending on the quality and availability of data received from third parties, surveys, plans and ground conditions etc. there may be the need to supplement the assessment with additional surveys (including those listed above). Site specific flood modelling will not have been included as part of this proposal, although the flood regime may be assessed using existing Environment Agency approved flood models in the first instance.
The need for any supplementary information will be flagged up as the assessment progresses and could affect timescales for delivery of the assessment. The cost of or any supplementary tasks and any other third party information (i.e. sewer records) will be confirmed if required.
How long does a
Flood Risk Assessment

take to prepare?

We will aim to provide a report within three to four weeks of having all the information we need from you. It is important that we have all the information listed above before we can start the assessment.

If our timescales are dependent on the availability of information from other third party stakeholders, external advisors and access to undertake an inspection (i.e. existing drainage), please ensure you have allowed additional time for this in your programme.

This is especially important because getting information back from the Environment Agency or Lead Local Flood Authority is often taking much longer than their usual 21 day statutory response time.
Our Promise
Our consultants are available to guide you through the complex process of undertaking a Flood Risk Assessment, so you can get your site approved and built.
We will strive to keep things as simple and jargon free as possible, so please feel free to contact the person who sent your proposal with any clarifying questions.
We are members of CHAS; a SSIP approved Health and Safety scheme.
Our team are ready to get started.
Posted by Matt Dean on 01/12/2021